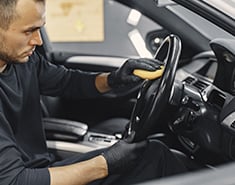 About Bavarian House
We are here for you!
We are a BMW specific shop working on all BMWs. From diagnostics to, repairs, maintenance and performance modification. We are your one stop shop for any of your BMW needs!
Trust that our team of factory certified technicians will get your car fixed correctly the first time and at a fraction of the cost of the dealership. We even work closely with Carfax to ensure that all repairs and maintenance is uploaded with Carfax history reports.
We offer a two-year unlimited mile warranty on OEM parts! If your looking for more power, we can help you build a beast that can make significantly higher power levels than factory. We can help you come up with specific modifications to help your ride handle at levels you could never imagine.
Level 1 Certified
Master Technicians
A combined 30
years of experience
Dropped off vehicle due to smoke coming out of exhaust. They found the issue to be bad turbos. I had them replace the turbos and it solved all my problems. Very skilled and knowledgeable shop, fairly priced. Would recommend to anyone with any bmw needs.
Sanjana Reginald
May 10, 2023
Andrew and The crew at the Bavarian house are fabulous and efficient at what they do. Excellent communication and kept everything streamlined which was immensely wonderful, as I'm no expert with cars. Thank you for taking great care from the start, we appreciate it. Definitely would recommend. 🙂
Bavarian house is by far the best bmw shop around, Andrew and his team are fantastic. Not only did they get my 2014 535i m sport in quickly, they got the diagnosing done within the first hour and had the new parts the next day. also they were very communicative and polite about the whole process. Tommy and Andrew know what they are doing with these cars and they don't try to yank people around for their money. True car enthusiasts who want to help others with their cars. I will definitely be bringing my car bad here is any issues arise in the future.
Great customer service and they really know what they are doing! Highly recommend them
tam nguyen
April 28, 2023
From engine swaps to aftermarket parts to maintenance for my F82 M4, Andrew and his team took care of me and were able to get the job done quick with no issues. With reasonable prices and professional and friendly service there's no doubt I'll be returning to them in the future for any services.
Zane Kerns
April 22, 2023
They have always taken care of my car and will be the only shop I'll trust my BMW two. Would absolutely recommend.
Logic Motors
April 21, 2023
Solid service, very knowledgeable, and passionate BMW crew.
Most professional no bs experience you'll find. Andrew is the man!
Lindsey Van Zwol
April 1, 2023
First time servicing my bmw here & I will never go anywhere else again! Andrew & John are not only knowledgeable, but they are efficient, detailed, kind and trustworthy! I know absolutely nothing about cars and not only were they able to explain what I needed they also clearly communicated things that I would need to repair and things to be aware of for future services. I 100% know I am in the absolute best care at Bavarian BMW. They relieve the anxiety about being up sold and truly care about you as a customer!
Homepage